Gordon Goodwin Trio
Brian Scanlon saksofony
Trey Henry bas
Gordon Goodwin saksofon / fortepian / dyrygent
Gordon Goodwin Trio

Gordon Goodwin saxophone / piano / conductor
Gordon Goodwin is a three-time Grammy winner, to go along with his sixteen nominations. He is leader of Gordon Goodwin's Big Phat Band, an internationally known ensemble with a reputation as one of the most exciting large ensembles in jazz.
The BPB has released five critically acclaimed records, its most recent being Life in the Bubble, which continues to garner praise since its release in May 2014.
Gordon's composing for film and television has garnered him three Emmy Awards. He has written and worked with artists like Ray Charles, Christina Aguilera, Johnny Mathis, John Williams, Natalie Cole, David Foster, Sarah Vaughan, Mel Torme, and Quincy Jones, to name a few. His charts are played all over the world, and along with his method books and CDs, have been a robust source of inspiration and learning for thousands of young musicians.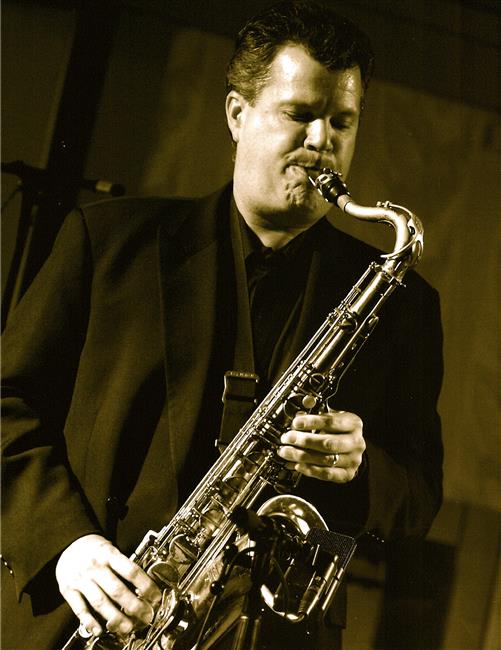 Brian Scanlon saxophones
Brian Scanlon has been an active member of the LA music scene since 1987. As a saxophonist and woodwind doubler, he has made his mark in the studios, on the concert stage, and in jazz clubs.
Brian's career highlights include touring with song and dance man, Ben Vereen (1986-1999) and regular appearances on the Tonight Show, as a member of the NBC Orchestra (1988-1992). He also toured with trumpeter, Doc Severinsen (1988-1996), Natalie Cole (2003), Maureen McGovern (1999-2003), Buddy Rich (1986), and is currently featured with Grammy Award winner, Gordon Goodwin, in the Big Phat Band.
He can be heard on dozens of movie soundtracks, including The Simpsons Movie, Sideways, How The Grinch Stole Christmas, Monsters, Inc. and Analyze This. He has recorded with Randy Newman, Bette Midler, Rosemary Clooney, and Gordon Goodwin's Big Phat Band. Scanlon has shared the stage with Alicia Keys, Tony Bennett and Dizzy Gillespie, to name a few. Brian is an extra with the Los Angeles Philharmonic, Hollywood Bowl Orchestra, and Long Beach Symphony, and has been a featured soloist with each.
Since 2002, Brian has taught saxophone and directed the jazz ensemble at Pepperdine University. He is a Vandoren Artist. He earned a Bachelor of Music and a Master of Music from Eastman School of Music (1981,1983).
A native of Los Angeles, Trey has had many opportunities to perform with a wide variety of artists such as Stevie Wonder, Henry Mancini, Herbie Hancock, Natalie Cole, Willie Nelson, Joe Williams, James Taylor, Aretha Franklin, Michel Legrand, Diane Schuur, Aaron Neville, Dizzy Gillespie and Alan and Marilyn Bergman.
 
He appears on more than 200 recordings with various artists including Ray Charles, Maynard Ferguson, Linda Ronstadt, Gerald Wilson, Tom Scott, Steve Allen and Lalo Schifrin. His work with vocalist Tierney Sutton has resulted in multiple Grammy nominations.
He has worked on numerous T.V. productions ranging from "The Family Guy", "The Simpsons" and "American Dad" to "American Idol" the Emmy Awards, the Academy Awards and "Dancing With The Stars".
 
His film and sound track credits include "Rush Hour", "The Thomas Crown Affair", "The Lion King", "The Haunted Mansion", "Nacho Libre", "Talladega Nights", "Ted", "Labor Day", "A Million Ways to Die In the West" and "Jersey Boys".
Trey earned a Bachelor of Music degree from California State University, Northridge and studied with Ed Meares. While touring with various artists, Trey has run clinics and workshops throughout the world including a two week stay as a bass clinician for the Queensland Jazz Festival. In addition, he has held bass master classes at Arizona State University and Whitehurst College in Washington State and served as an adjudicator at the Arizona High School Stage Band Festival. He recently lectured at California State University, Northridge on the art of studio musicianship.