Hob-beats Percussion Group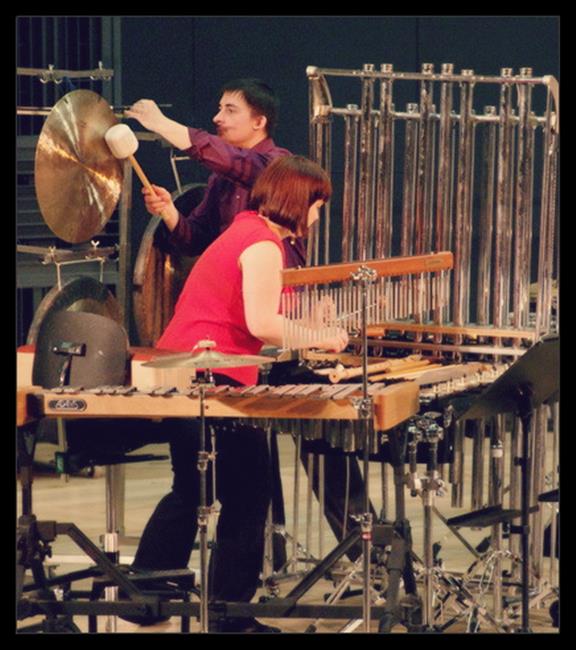 Olga Przybył
Miłosz Pękala
Tomasz Bielecki
Radosław Mysłek 
The Hob-beats Percussion Group is a percussion ensemble, formed out of a percussion duet core of the Hob-beats Percussion Duo which has been active on the music scene for more than 10 years. The duo consists of Magdalena Kordylasińska and Miłosz Pękala. They boast numerous successful projects to their credit, from international competitions (including the International Percussion Duo Competition in Luxemburg and the Universal Marimba Competition in Belgium), through completed artistic projects (including Jarosław Kapuściński's Enso at the Warsaw Autumn Festival, Hob-beats / Percussion Clavier de Lyon in France and How Does Outer Space Dance? at the Kopernik Science Centre in Warsaw) to recitals and masterclasses (in China, Russia and Brazil, among others). In 2013 Magdalena and Miłosz founded a percussion group in order to bring to life artistic ideas they would not be able to achieve as a duet. In each project the musicians involve the best percussionists of the young generation. The Cage/Reich – Hue/ Rhythm concert will feature renowned the best students from the percussion class of the Fryderyk Chopin University of Music in Warsaw – Olga Przybył, Radosław Mysłek and Tomasz Bielecki. Hob-beats Percussion Group's latest project was an extraordinary concert commissioned by the Warsaw Autumn Festival. Called Sound Splash Play, it featured the artists using various devices and toys on the playground of the Łazienki Królewskie park as instruments, much to the amusement of the audience.
The programme of the Cage / Reich – Hue/ Rhythm concert includes the greatest examples of compositions written solely for percussion. On one hand, the programme features John Cage – the father of contemporary music, and on the other the pulsating polyrhythms of Steve Reich – considered one of the greatest modern American composers. Playing this interesting, colourful, but not very well known music to a wider audience will be an unforgettable experience, not just for the adults attending the concert.
Even though it is not performed very often, percussion music has the power of gripping the attention of every listener. Thanks to its inter-disciplinary nature, percussion concerts transform into extraordinary sound & theatrical events.