Kit Armstrong
piano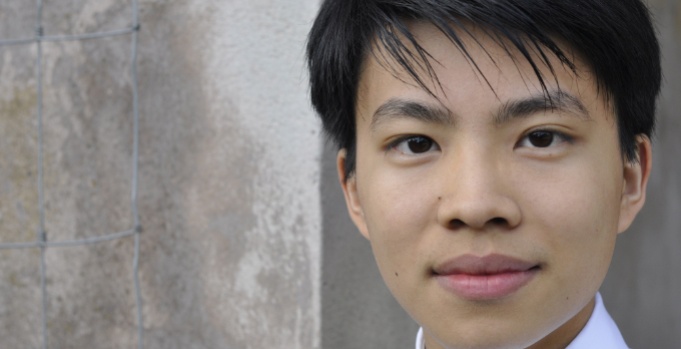 Twenty one-year old Kit Armstrong is a pianist and composer. His other skills include mathematics, the sciences and foreign languages. He commenced his study of the piano and composition at the age of five. Two years later Kit commenced his full-time studies of the sciences. He is currently working on his master's thesis in mathematics at Pierre-and-Marie-Curie University.
In the course of his studies Kit performed both recitals and as soloist with many orchestras, including in Leipzig and Tokyo , playing Bach's Concerto in D minor with the Leipzig Gewandhaus under the direction of Ricardo Chailly.  In 2010 he was again invited by the orchestra and conductor to perform Schumann's Piano Concerto. That same year he also performed with the WDR Symphony Orchestra in Cologne, the Basel Chamber Orchestra, the Gulbenkian Orchestra in Lisbon and with the Zurich Chamber Orchestra. He has played recitals in Vienna, Verbier, Baden-Baden, Dortmund, Düsseldorf and Munich.
In 2010 Kit Armstrong received the Leonard Bernstein prize at the Schleswig-Holstein Festival, where he played Beethoven's 3rd Piano Concerto with the Hamburg NDR Sinfonieorchester under the direction of Manfred Honeck.
Kit Armstrong plays a wide range of works, with the most important being Bach's 48 Preludes and Fugues (the Well-Tempered Klavier), 18 Mozart sonatas, 15 Beethoven sonatas, as well as works by Haydn, Schubert, Chopin, Schumann, Liszt, Brahms, Debussy, Ravel, Bartók and Ligeti. His concerto repertoire includes works by Bach, Mozart, Beethoven, Mendelssohn, Chopin, Schumann and Bartók.
Kit composes works in many different styles. The many awards he received include the Morton Gould Young Composer Award, which he has received for five years in a row. In 2007, "Struwwelpeter: Character Pieces for Viola and Piano" won the ASCAP Foundation Charlotte V. Bergen Scholarship. At the age of seven Kit composed the "Celebration" symphony, performed by the Pacific Symphony Orchestra. He has received many commissions, including a string quartet for the Szymanowski Quartet, a symphonic overture for the Winterthur Musikkollegium orchestra under the direction of Douglas Boyd and a concerto for clarinet and orchestra for Paul Meyer and the Zurich Chamber Orchestra for Frankfurter Bachkonzerte.