Jean-Jacques Kantorow
conductor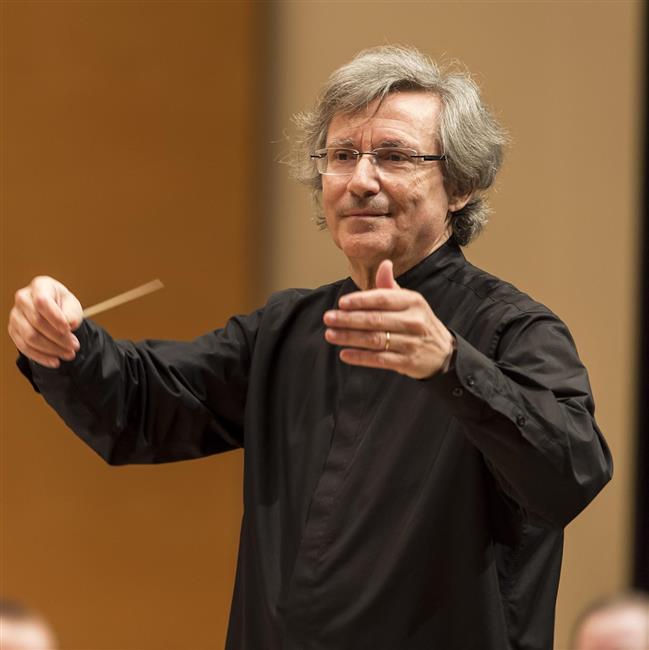 A native of Russia, Jean-Jacques Kantorow was born in Cannes where he studied violin at the MusicAcademy. At the age of 13, he entered the Conservatoire National Supérieur de Paris, in René Benedetti's class, where he obtained, one year later, the first prize for violin.
After receiving many prizes in the main international competitions, he performs on the most important international stages.
He also plays in chamber music formations (strings trios and piano). He worked with many famous artists, such as Sir Georg Solti, Daniel Barenboim, Paul Tortelier, Krystian Zimerman, Janos Starker, Maria João Pires, Gidon Kremer, Edith Wiens, Maria Bayo, Renée Fleming and others.
He is also very interested in orchestral and opera repertoire and has been chief conductor successively of the Orchestre d'Auvergne, the Helsinki Chamber Orchestra, the Ensemble Orchestral de Paris, and the Tapiola Sinfonietta.
He is frequently invited to conduct orchestras such as the Kyoto Symphony Orchestra, the Nederlands Kamerorkest, the Coruna and Tenerife Orchestra, the Cincinnati Orchestra, the Lausanne Chamber Orchestra, the Orchestre du Capitole de Toulouse, the Orchestre National de Lille, the Orchestre National de Lyon, the Halle Orchestra, the Northern Sinfonia, the Bamberg Orchestra, the Portugal National Orchestra, the Bournemouth Sinfonietta, Sinfonia Varsovia and others. This gave him the opportunity to work with great soloists like Katia and Marielle Labèque, Jean-Pierre Rampal, Maurice André, Gil Shaham, Vadim Repin, Maria Bayo, Jean-Yves Thibaudet, Hélène Grimaud and others.
Jean-Jacques Kantorow was a violin teacher at the Conservatoire National Supérieur de Paris and at the RotterdamMusicAcademy.
Jean-Jacques Kantorow recorded more than 130 discs for different labels, including EMI, ERATO, DENON, BIS and CBS and obtained the Grand Prix du Disque Français, the Grand Prix of the FranzLisztAcademy, as well as Diapasons d'Or and Choc du Monde de la Musique.
Jean-Jacques Kantorow is an officer of the Ordre National du Mérite.