Trio Karénine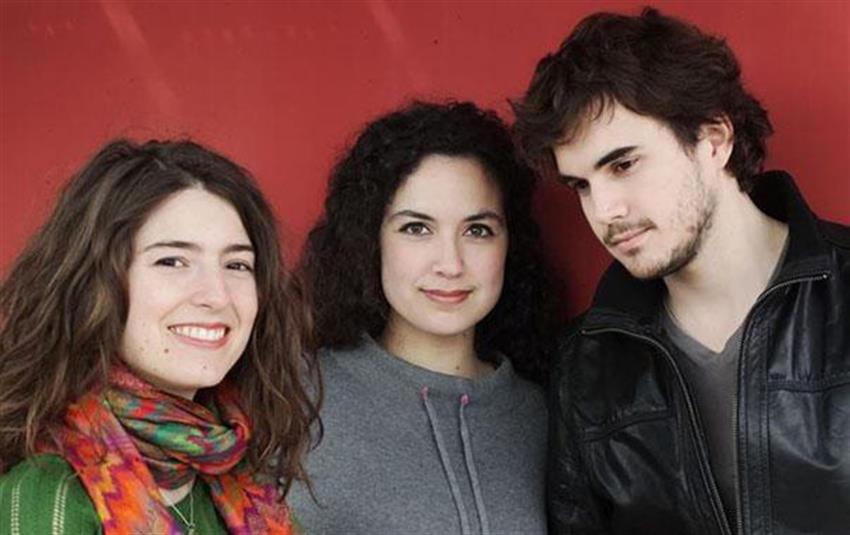 Paloma Kouider piano
Anna Göckel violin
Louis Rodde cello
Trio Karénine recently awarded with the 2nd Prize at the ARD International Music Competition in Munich (1st Prize not awarded), as well as with three special prizes, the Trio Karénine was founded in 2009 by Anna Göckel, Louis Rodde and Paloma Kouider. A reunion of three literature enthusiasts' personalities, the trio has chosen to bear the name of Tolstoy's famous heroine for the vital impetus that lives in her.
1st Prize of the 27th "Charles Hennen" International Chamber Music Competition (NL), laureate of the 5th "Joseph Haydn" International Chamber Music Competition (AT), laureate of the prestigious Banque Populaire grant, the Trio Karénine was unanimously awarded the "International Pro Musicis" Prize in Paris.
The members of the Trio Karénine graduated from Paris CNSM or Ecole Normale Alfred Cortot, and studied further individually with internationally well-known teachers in Leipzig, Vienna and Saarbrücken. They have already received teaching and support from major chamber music artists, such as the members of the Ysaÿe Quartet in Paris, Menahem Pressler, Ferenc Rados, Jean-Claude Pennetier, the Wanderer Trio and Hatto Beyerle. The Trio was "Guest Ensemble" in the Académie Musique à Flaine, in the "Académie Musicale de Villecroze", as well as the "Académie Internationale du musique Maurice Ravel", where he was awarded the Rotary club's Prize. The Trio Karenine was also named "ECMA Ensemble" by the European Chamber Music Academy.
Current and upcoming highlights include concerts at the Wigmore Hall London, at the Salle Pleyel Paris, Salle Cortot and Auditorium du Louvre, at the Musée des Beaux-Arts in Montréal, at the Palazzetto Bru Zane in Venice, at the Schönbrunn Theater in Vienna, at the Laeiszhalle Hamburg, the Prinzregentheater and Herkulessaal in Munich, "Nouveau Siècle" in Lille, the "Salle Molière" in Lyon, and at Roque d'Anthéron Festival.
The Neue Philharmonie of Westphalie invited the trio to a tour in 2015 to perform Beethoven's Triple Concerto.
Enthusiastic about musical innovation, the Trio Karénine regularly plays works by Wolfgang Rihm, Hans Werner Henze, Graciane Finzi, Benoît Menut dedicated his second trio to them, "Les Allées Sombres", named after an Ivan Bounine's short-story. The trio was also awarded with the special prize for the best interpretation of Fazil Say's "Space Jump" at the ARD Competition.
The Trio is regularly invited to record for France Musique. Its concerts has been broadcasted by the Austrian (ORF), Dutch (Radio 4) and German broadcasting stations (BR).
The trio is holding a residence at the "Singer-Polignac Foundation" in Paris. They are supported by the "Culture and Music Foundation", in collaboration with the "Fondation de France".