Opole Gospel Choir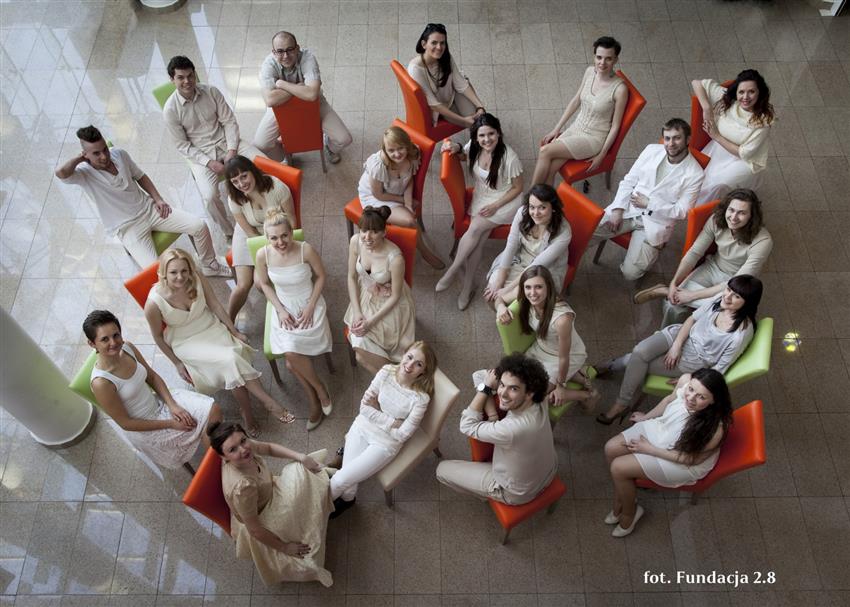 The Opole Gospel Choir was formed in November 2001 by Jacek Mełnicki – musician and vocal coach. Vocalists in the choir are mostly graduates of Opolskie Studio Piosenki [the Opole Song Studio] – currently students and graduates of artistic schools in Opole, Cracow, Warsaw and Wrocław.
Members of the choir are experienced vocalists, multiple winners of national competitions and song festivals. Apart from singing in the choir, they follow their individual artistic passions in individual projects.
The Opole Gospel Choir has been playing contemporary versions of gospel music and widely known and liked works for thirteen years, carrying to its its listeners an important spiritual and evangelical message. The choir also accompanies other performers at many national song festivals. The ensemble's recordings so far are contained on seven CDs (three of those featuring the ensemble alone and four in collaboration with such artists as Ewa Uryga, Janice Harrington, Marek Bałata, Janusz Szrom, Ryszard Rynkowski, the Jazz Band Ball Orchestra and the Big Warsaw Band. In 2004, the oratorio "Bo Ma Duszę", with a libretto by Ernest Bryll and music by Stanisław Fiałkowski was written with the choir in mind and also committed to CD.
The Opole Gospel Choir are laureates of the 2nd prize at the Gospel Camp Meeting 2003 International Festival. The Choir is also one of six finalists of the European Gospel Award competition which took place in Berlin in September 2005. In 2006, during the 43rd National Polish Song Festival in Opole, the ensemble received the prestigious Journalists' Award. In January 2011 the Opole Gospel Choir received the Silver Wreath of Skill in the field of culture. Apart from performing many concerts in Poland, the ensemble has also performed many times in Germany, Italy and Spain. Since 2002 the Choir has also hosted the international "Opole Gospel Festival" which takes place in their home city.
Jacek Mełnicki conductor
Singer, composer of music for the theatre, arranger, vocal coach. Founder and leader of the "Studio Singers" ensemble (1985 – 1991). Jacek Mełnicki is the head of Opolskie Studio Piosenki since 1991. Mełnicki's former students won the "Szansa na Sukces" Polish Television talent show. They also take part (and win) many national and international competitions and song festivals and television programs, including: "Droga do gwiazd", "X-Factor", "Must Be The Music" and "The Voice of Poland".
In 2001 Mełnicki founded the "Opole Gospel Choir", in which he plays the role of arranger and conductor. He was also the artistic director of the annual National Vocal Workshop (Ogólnopolskie Warsztaty Wokalne) (1996 – 2011). Winner of the Journalists' award at the 43rd National Polish Song Festival in Opole in 2006 and of the "Silver Wreath of Skill" in the field of culture in 2010.