Vistula River Brass Band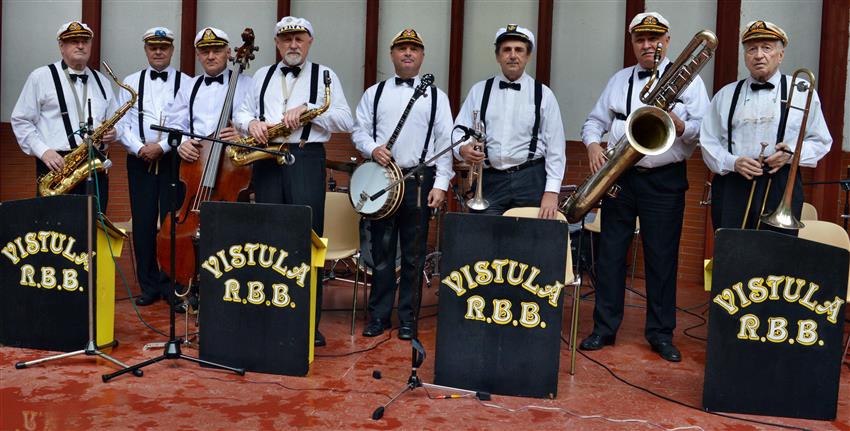 Aleksander Michalski clarinet, tenor saxophone
Wiesław Boryś trumpet
Waldemar Wolski trombone
Włodzimierz Halik bass saxophone
Krzysztof Marszałek banjo
Wojciech Zduniak double bass 
Stanisław Pietrzyk drums, vocal
Lech Szprot clarinet, alto saxophone, vocal, leader 
Since 1968, the Vistula River Brass Band have been playing their favourite music – good old traditional jazz. There aren't many festivals and jazz clubs that the Vistula haven't played. The ensemble recorded 12 LPs and 10 CDs – all examples of well-balanced, stylish, but lively sound of old jazz.
Vistula's music swings. It is full of temperament, with solos in excellent style, cherished by critics who appreciate exceptional faithfulness to the rules of traditional jazz. The sound of the ensemble is sometimes compared to the sound of American bands from before World War II. The musicians' skill and performing experience make each performance a wonderful, unforgettable show.
Vistula won the following awards: the Złota Tarka (Gold Washboard) main prize in 1976 and 1977, the Golden Horse in Belgium, the Gold Washboard in England, the Gold Washboard at the Old Jazz Meeting Festival in Iława (1998) in recognition of its achievements for the development of Polish jazz and an Honorary Gold Washboard in 2008 for the ensemble's 40th anniversary of its artistic career. Furthermore, the Polish Jazz Asssociation has honoured Vistula with an Honorary Badge for extraordinary achievement in the promotion of Polish jazz in Poland and abroad.
Even though the ensemble has been in existence for four decades, the tooth of time has not frayed its lively, vital style. It brings joy to audiences wherever they play.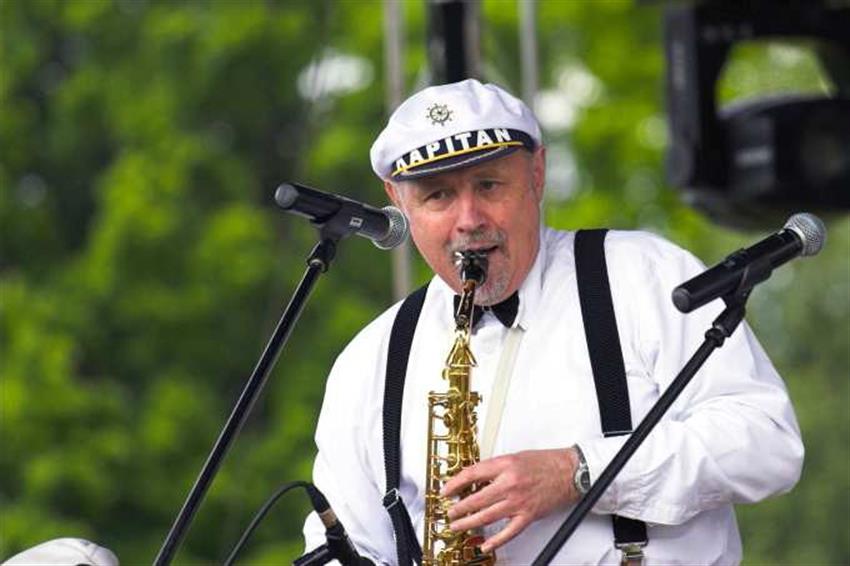 Lech Szprot leader
Higher education. Plays clarinet, saxophone and flute. Vocalist, composer, arranger, music therapist, teacher, bandleader and, above all, jazzman.
Lech Szprot has had ties with traditional jazz since a very early age. Fascinated by this wonderful music, he has remained faithful to it to this day. Leader of the Old Jazz Quartet and the now legendary Vistula River Brass Band.
The band's 45th anniversary in 2013 is largely the effect of his perseverance and determination.
Szprot has performed in venues and at festivales in Germany, France, the Netherlands, Switzerland, Scandinavia, Great Britain, Bulgaria, Turkey, Austria and Belgium. In the late 1990's Lech Szprot engaged in successful cooperation with Costa Cruises as a big band soloist on a cruise ship.
His artistic output also entails approximately 20 compositions (music and songs), 15 albums and educational programmes for youths as part of the Warsaw Academy of Traditional Jazz, which he founded in 2005.
Lech Szprot received the 2004-2005 Prometheus Statuette to honour his artistic output. The award is given by Polska Estrada for top artistic and creative achievements on stage.
Lech Szprot is also active in the field of music therapy. He has worked with the Children's Memorial Health Institute in Międzylesie, the Polish Society Against Disability in Zielona Góra, with the School and Educational Cente for Blind Children in Laski and with the Polish Society against Drug Addiction.